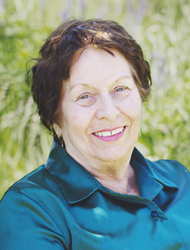 ­Gwen Dalley Crandall passed away on May 13, 2013 at the Teton Valley Hospital. She was born in Driggs, Idaho on April 27, 1935. Gwen grew up in the state line/Alta area. Having come from a musical family, she was an accomplished vocalist and pianist, she also played the cello and saxophone. Gwen graduated from Teton High School in 1953 and attended Ricks College for one year. Gwen met Robert W. Crandall in Newport News. VA in late March of 1955 and they were married in the Idaho Falls Temple on June 3, 1955. She spent two years with her husband on his Army assignment to Germany, and during their 58 years of marriage Gwen traveled with her husband throughout Europe and to South America.  On her first trip to Italy in 1956 and at seven months pregnant, she climbed the leaning tower of Pisa. Gwen loved camping and the out of doors. While living in Fremont, California Gwen was a singer with the La Golondrina Chorus. In 1964, she sang at the dedication of the Oakland Temple. In 1969, she and her husband purchased 40 acres in the redwoods in Mendocino County, California, bought an old lumber shack and fully remodeled it for living. Even though there was no power, phone or indoor plumbing, she loved it there so much that she persuaded the family to move there in 1972. Although this was a great experience, the rustic life at the cabin necessitated more practical living conditions and the family purchased a home in Petaluma, California in 1973. Shortly before her husband retired in 1991, Gwen had a great desire to return to Teton Valley and they purchased 13 acres contiguous with the BLM forest in Alta Wyoming. She designed and supervised the construction of two homes on the property and spent the last 22 years living in and loving the Teton Valley. Gwen was an avid gardener/horticulturalist and with her experience and knowledge she executed the landscape design for the seven residences she and her husband lived in during their life together. Gwen also had a passion for architectural design. Her design work included three extensive remodels and two new homes. She was a member of the Pratt Ward, the Driggs Second Ward and the Driggs Third Ward. Gwen has served in numerous church capacities including Relief Society President, Teacher, and Pianist. Gwen is the mother of four, the grandmother of thirteen and the Great Grandmother of eleven (and counting). She was preceded in death by her father Milo Hulet Dalley, her mother Iris Kofoed Neilsen Dalley, siblings Lola Boyle, Karen Austin, Brent Dalley, and Omar Kim Dalley. She is survived by her husband Robert W. Crandall and siblings Nena Larsen, Nyla Hedspeth and Elden Dalley and by the following children, grandchildren and great grandchildren:
            Stephan Crandall , Sandra Sue Crandall – San Jose, CA
                        Nyla  Hanna, Jonathan Hanna – Salinas, CA
                                    Eleanor Hanna (July 29, 2013)
                        Nena  Limper, Michael Limper – Santa Clara, CA
                                    Raylan Limper
                                    Natalie Limper (December 26, 2013)
            Alan Crandall, Sandra Luz Crandall – Keller, TX
                        Jason Crandall, MaryAnn Crandall - Pflugerville, TX
                                    Rowyn Crandall
                                    Avery Crandall
                        Jared Crandall - Provo UT
                        Justin Crandall, Valerie Crandall – Keller, TX
                                    Kelsey Crandall          
            Shauna Crandall – Alta, WY
                        Sabina Lyons, Daniel Lyons – Driggs, ID
                                    Gwen Lyons
                                    Daniel Lyons
                                    Fisher Lyons
                                    Nicolas Lyons
                        Carlos Herrera, Jennifer Smith – Boise, ID
                                    Jensen Herrera          
                        Sofia Lewis, Jacob Lewis –Enid, OK
                                    Savannah Lewis
                        Ruben Herrera – Alta, WY
            Brian Crandall, Susan Crandall – Ft Montgomery, NY
                        Jana Crandall - Ft Montgomery, NY
                        Parker Crandall - Rexburg, ID
                        Abigail Crandall - Ft Montgomery, NY
                        Allison Crandall - Ft Montgomery, NY
Funeral services will be held at the Driggs Idaho Stake Center on Tuesday May 21st. Visitation will be from 9:00 AM to 10:45 AM and the memorial service will be starting at 11:00 AM. Graveside services will be at the Pratt Cemetery in Alta WY at 2:30PM. In lieu of flowers, please make a donation to the Teton Senior Citizens Center at 60 South Main Street in Driggs, Idaho, 83422.